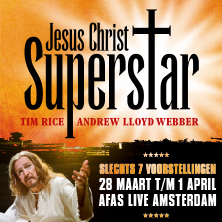 The rock opera Jesus Christ Superstar with Ted Neeley is coming back to the Netherlands at Easter! The producers of Jesus Christ Superstar are extremely proud to announce a new European tour of the rock opera for 2018-2019. After the overwhelming success of Jesus Christ Superstar in Italy, the Netherlands and Belgium, the production will now also go to countries such as Bulgaria, Slovakia, Spain and Denmark.
In order to meet the many requests from fans after the successful tour en the sensational finale in Ahoy, but above all the wish of Ted Neeley himself to return, the Netherlands has also been included in this new European tour.
Ted Neeley is looking forward to coming to the Netherlands again because he has come to love the people, the art and culture, not to mention the syrup waffles. Despite the fact that The Grand Final in Ahoy, with special guests Yvonne Elliman, Barry Dennen and even Sir Tim Rice, was actually intended as a farewell to the Dutch public, Ted already said after this last performance that he would like to return to the Dutch stages as soon as possible because the Dutch public is so heart-warming for him and gives him so much energy.
Jesus Christ Superstar is coming back to the Netherlands for only 7 performances and can be seen in AFAS Live Amsterdam from 28 March to 1 April 2018. International Security Agency (ISA) will be providing the security and hospitality for this rock opera!